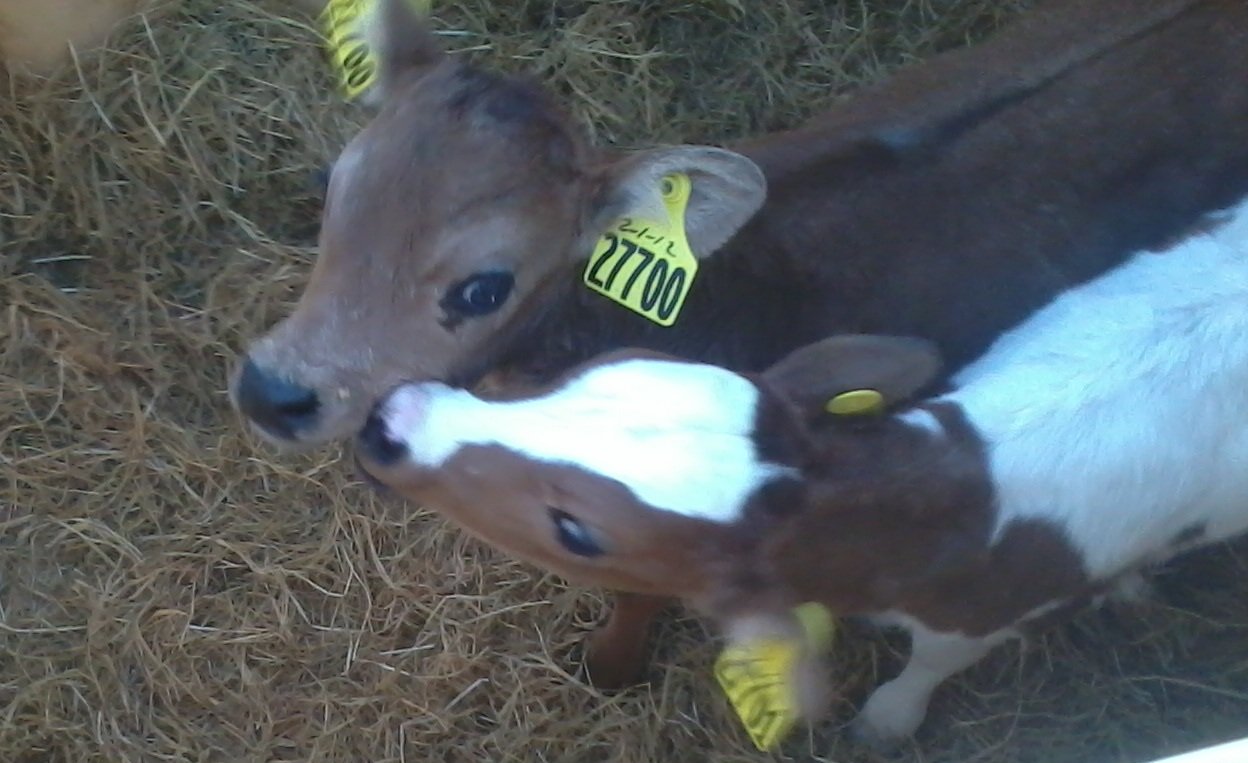 Dairy cows usually have only 1 calf, but can have more in certain cases
A story of Holstein quadruplet calves 
In December, there was an interesting story that everybody in the dairy industry was talking about. A dairy cow in Orland, California gave birth to quadruplet heifers! It was quite an amazing story because cows normally do not have quadruplets. In fact, cows rarely even have triplets, or twins. A normal dairy cow usually has only 1 baby at a time.
According to the veterinarian, the cow released 3 oocytes from her ovaries which were fertilized, one of which split, producing two calves that are genetically identical. Another amazing point to this story is that if there had been one bull born, the heifers would have been sterile. But because they were all heifers, they will all be able to have babies of their own.
You can read the news story about the quadruplet heifers here.
Having multiple calves is a rare event, here are the odds:
The odds of Quadruplets
The odds of a cow actually having multiple babies is pretty spectacular. According to the Veterinary Obstetrics and Genital Diseases it was a 1 in 179,200,000 event!
The odds of having Quadruplets – 1:700,000
The odds of having all four calves born alive – 1:11.2 million
The odds of having all four born alive and the same sex – 1:179.2 million
The odds of Triplets
Then about a month later, there was a dairy cow in Merced, California that gave birth to triplet heifers. Overshadowed by the story of the quadruplets, I don't think many people paid much attention, but triplets are still quite rare event. The odds of triplets is still quite amazing. According to the article:
The odds of having triplet heifers – 1:2 million
The odds of having triplet heifers all born alive – 1:8 million
Interestingly, our dairy farm actually had triplets heifers a few years ago. One of the cows gave birth to 3 healthy heifer calves. All of them grew up healthy and strong. Not many dairies have the privilege to take care of triplets though!
Click here to read more about the triplet heifers that were born.
Twins are a bit more common
Twins are a bit more common, and are much more frequent than triplets, and quadruplets. On our dairy, about 3% of the cows having babies give birth to twins.
We recently had a interesting set of twins. One of the Jersey cows gave birth to twins that were different colors. Most Jerseys are solid brown, so at first we were confused that it was a red Holstein. But it was actually a baby Jersey. While they are both different, they do look very similar if you ignore the color. You can easily tell that she's a Jersey by her stylish, dark beaming eyes.
**The Jersey twins**
I also got some pictures of a pair off Holstein twins that were born not too long ago. Both are black and look pretty similar. My sister named them Pinky and Binky. So far they are doing very well, and growing very fast.
**The Holstein twins -Pinky and Binky**
**The Jersey twins love each other**