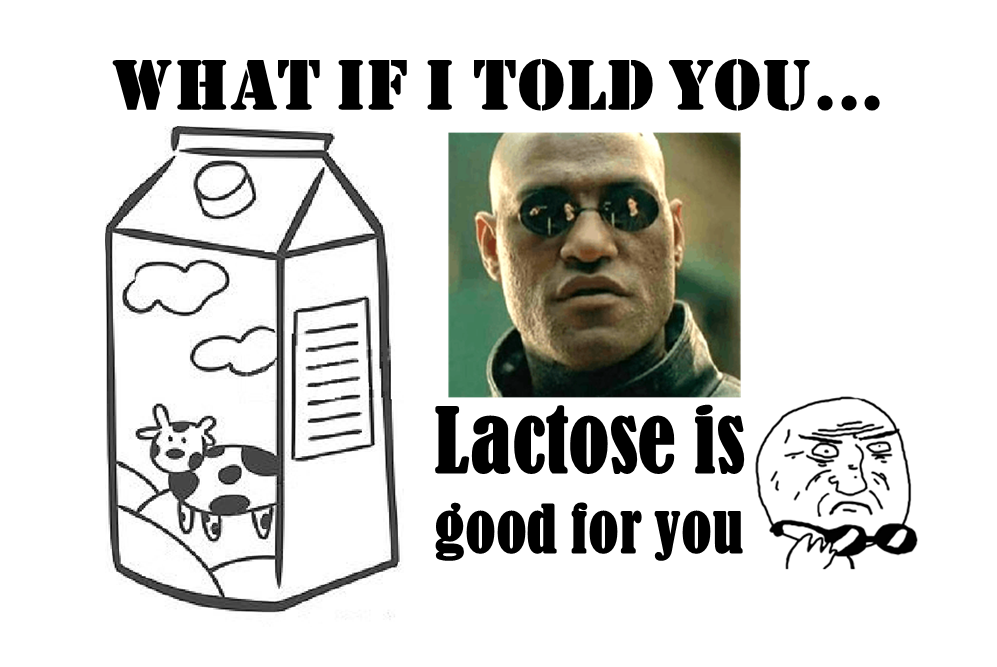 Lactose is a healthy Sugar
When people talk about lactose, it's usually in the negative sense. But have you ever thought that lactose might actually be a beneficial component of milk. After all, it is produced naturally by some mammals in milk and is fed to their babies. Why would nature put something in milk that is harmful or destructive to human health.
Lactose intolerance is often misdiagnosed by people, and many people don't even realize that you can cure yourself of lactose intolerance. If you want to learn more about lactose intolerance and other facts about this condition, check out my previous post here.
Lactose actually has many things going for it, and new research is finding lactose to be very beneficial for human health. I found 3 excellent reasons why Lactose is good for you.
Lactose vs. other Sugars
Before we can understand how lactose is beneficial for human health, we need to understand what exactly lactose is. Lactose is a disaccharide sugar, meaning that it is made up of 2 different sugar molecules. Lactose is made of two sugars – Glucose and Galactose. These sugars are the reason why lactose is a healthy sugar.
**A Lactose molecule is made of 2 sugars glucose and galactose**
Lately there's been a lot of talk these days about how sugar is bad for you. In fact, I recently wrote about the negative effects of sugar. When you read about the negative effects of sugar though, it's usually talking about sucrose (cane sugar), or High Fructose Corn Syrup, HFCS, (corn sugar). These two types of sugar are very different than lactose, and have been shown to have some negative effects.
Sucrose or HFCS is a disaccharide sugar, which is made up of two sugar molecules – Glucose and Fructose. Glucose is a natural sugar that your body needs. This is energy that is used by the cells so they can function correctly. Glucose has been considered to be a healthy, non-toxic sugar to the human body. Fructose is different though.
**A Sucrose molecule is made of 2 sugars glucose and fructose**
According to researchers, fructose has many negative effects on the body when consumed in large amounts. When you consume too much fructose, your liver converts the extra fructose to fat and stores that fat in your liver. The fructose is ingested as a carbohydrate, but is metabolized by your body as a fat. You basically end up with high levels of triglycerides in your bloodstream leading to things like heart disease, hypertension, and cancer.
Researchers have also indicated that fructose is the cause of many different health problems such as:
Diabetes
Metabolic problems
Weight gain
Fatty Liver
Accelerate aging
It's also been shown that mice that ate sucrose resulted in a doubled mortality rate. The sugar in soda has also been shown to cause behavior problems in kids.
1- Lactose has no Fructose, instead is made up of the essential sugar Galactose
Milk sugar aka lactose has been shown to be very beneficial for the human body though. Unlike sucrose, lactose is made up of glucose and galactose. There is no fructose in lactose. It is a healthy disaccharide sugar.
Galactose has been shown to be a very beneficial sugar that is actually an essential nutrient for the human body. Until recently, galactose wasn't recognized as being an important sugar, but current research has shown its importance. Believe it or not, your body needs galactose to function properly. In fact, galactose has been identified to be one of 8 essential sugars needed in the human diet for proper cell development and functioning of the human body. Without galactose, you would not be able to function.
Galactose contributes directly (as well as through bonds by way of contact points on cells) to vital information and control processes in the body. It also functions as a fundamental and structural substance for cells, cell walls, and intracellular matrix. Your immune system wouldn't be able to function without galactose either. Your body wouldn't know which cells are "good" and what cells are "bad." Your body wouldn't know who the invaders were and which ones should be attacked by antibodies.
Interestingly, galactose is known as the "brain sugar" and supports the brain development of babies and children. Studies indicate that the monosaccharide sugar helps triggers long-term memory formation. Galactose also has been shown to inhibit tumor growth and stop its spread, or metastasis, particularly to the liver. This beneficial sugar can also enhance wound healing, decrease inflammation, enhances cellular communication, and increases calcium absorption. Getting a proper amount of Galactose can also help to protect against exposure to X-ray radiation, and developing cataracts. Oddly enough, its been shown that Galactose levels are usually lower in people with arthritis and in those with lupus.
2- Lactose is a natural low-calorie sweetener
Lactose is nature's natural, low calorie sweetener. Unlike many low-calorie artificial sweeteners that have been shown to have detrimental effects on the body, lactose is a natural sugar which just so happens to also be low-calorie.
Lactose is less sweet than other sugars, but at the same time it gives you more energy than granulated sugar only with smaller amounts.
According to Joe O'Donnell of the California Dairy Research Foundation, unlike fast sugars that are broken down quickly by the body and converted to fat, lactose breaks down more slowly and paces itself to the body allowing it to be burned when the body needs it. In summary, less fat conversion than other sugars
Interestingly, lactose also has less significant metabolic effects than other sugars. Sugars can be compared on how quickly a specific sugar will cause a rise in blood sugar level. This measurement is called the Glycemic Index. Certain sugars and carbohydrates cause a spike, or rapid rise, in blood sugar level. This spike causes an insulin response and may over time lead to health problems such as diabetes, insulin resistance, metabolic syndrome and other issues. Maintaining a more even blood sugar level is ideal and appears to be beneficial. Lactose's glycemic index number (45) is much lower than glucose (100), and galactose is much lower at (25).
This of course means that lactose is a more beneficial sugar for people with diabetes, as it has a much lower impact on blood sugar. Less impact means that Lactose is less likely to cause a wide array of health problems that other sugars have been found to cause.
3- Lactose is a Prebiotic
By now most of us have heard all about probiotics (good bacteria) and how they are essential for a healthy life, but many of us have not heard about prebiotics. Basically prebiotics (literally meaning "before life," are non-digestible components of food that beneficially affect the body by stimulating the growth and well-being of the bacteria in the intestine. Certain bacteria consume certain kinds of prebiotics as a source of energy.
Joe O'Donnell of the California Dairy Research Foundation writes that prebiotics are non-digestible foods that stimulate the growth and activity of the bacteria in the digestive system. If your body doesn't produce the lactase to break down the lactose, the bacteria in your intestinal tract will use the lactose. In other words, lactose promotes the growth of the micro flora in your intestinal tract for a healthy digestive tract.
In order to break down lactose in the digestive system, your body manufactures an enzyme called lactase. As we get older though, our ability to produce this enzyme declines. If your body doesn't break down all the lactose, it will continue to pass through your digestive system. The "good" bacteria in your digestive system will take advantage of this undigested sugar, and use it as energy so it can grow and flourish. Lactose can help establish and maintain a healthy micro flora in your gut.
**Lactose can be used as a source of energy by the "good" bacteria in your gut**
The bacteria in your gut can provide your body with many beneficial effects. The bacteria can manufacture vitamins, and produce a variety of other beneficial compound for your body. The bacteria can ferment digestion-resistant fiber and convert them into short-chain saturated fatty acids like acetate, propionate and butyrate. Interestingly, butyrate has been shown to have many positive effects on the body, including anti-cancer effects.
A way to increase the production of these short-chain fatty acids like butyrate is to grow the micro flora in your gut. Eating prebiotics like lactose and galactose have been shown to act as a prebiotic and help these beneficial microbes to grow and flourish.
Lactose is healthier than most other sugars
While many people think of lactose as being the negative component of milk, there are actually health benefits to lactose. Nature designed milk to provide the offspring of mammals the nutrition that's required for healthy growth and development. It's not surprising that we would find a sugar like galactose that promotes brain development, cell communication, and a healthy immune system. Nor is it surprising that lactose is a low calorie sweetener that has a minimal impact on the body.
As research on lactose continues, I'm sure researchers will find many other positive health effects like lactose's unique prebiotic effect on the bacteria in the gut. I find it interesting that lactose has so many positive health benefits, but not much attention is ever placed on them, even though lactose is healthier than most other sugars. But it makes sense that nature would design milk not with a harmful component, but a healthy component that helps support a healthy life.
Any Questions?
Let me know what you think in the comments below. Did you like my graphic, you can get it here: download the lactose is good for you graphic.
Resources:
http://www.glyconutritionforlife.org/Science_of_Glyconutrients/Galactose.php
http://alchemicalbody.wordpress.com/2013/06/09/sugars-that-heal/
http://www.bodytunehealth.com/docs/Galactose-Food-Lists.pdf
http://www.sugar-and-sweetener-guide.com/glycemic-index-for-sweeteners.html
http://www.cheesemarketnews.com/guestcolumn/2006/13oct06.html
http://onlinelibrary.wiley.com/doi/10.1046/j.1365-2036.2002.01321.x/pdf