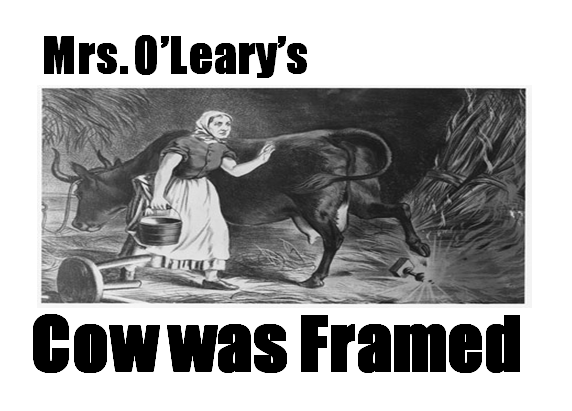 One of the most infamous cows in U.S. history
One of the largest U.S. disasters was blamed on a cow. Unfortunately this cow was framed.
One of the most infamous cows in U.S. history is Mrs. O'Leary's cow who is commonly known to have started the Great Chicago fire of 1871. According to the story, Mrs. O'Leary's cow kicked over a lantern setting the barn ablaze. The fire quickly spread from the barn throughout the city of Chicago, causing a great deal of damage.
The event was considered one of the largest U.S. disasters of the 19th century. The fire killed up to 300 people, destroyed roughly 4 square miles of property, and left more than 100,000 residents homeless. The fire damaged 17,500 buildings, and caused $222 million in property damage (a third of the cities valuation, or about $4.2 trillion in 2014 dollars)
Catherine O'Leary's (aka Mrs. O'Leary) cow was blamed for the fire, and newspapers ran with the story. Chicago Tribune reporter Michael Ahern was the first to publish the story that the fire started when a cow kicked over a lantern while a woman was milking it. The story didn't mention Mrs. O'Leary specifically, but reporter's soon identified her as the probable woman as reports wildly proclaimed that it was her cow that started the fire. The story was denied by the O'Leary household stating that they were already in bed before the fire started, but stories of the cow continued to spread across the city.
Anthony DeBartolo reported in the Chicago Tribune that Louis M. Cohn was the one who started the fire. Cohn was allegedly gambling with one of the O'Leary boys, and some of the other neighborhood boys. When Mrs. O'Leary came out to the barn to chase the kids away, they knocked over a lantern in their flight which ended up starting the fire. In 1942, upon his death, Cohn left his full confession. Interestingly though, the gambling continued. Mrs. O'Leary's son became one of the biggest gangsters in Chicago. James 'Big Jim' O'Leary became a powerful Irish mob boss in Chicago, controlling gambling in the city with an "iron fist."
The original reporter Michael Ahern retracted the "cow-and-lantern" story, admitted he made it up. The Chicago City Council eventually decided to exonerated Mrs. O'Leary of all guilt in 1997, but it was too late. The urban legend of Mrs. O'Leary's cow continues to this day. Mrs. O'Leary's cow was framed, and as a result, became one of the most notorious cows in U.S. history.
Mrs. O'Leary's cow was framed, and as a result, became one of the most notorious cows in U.S. history