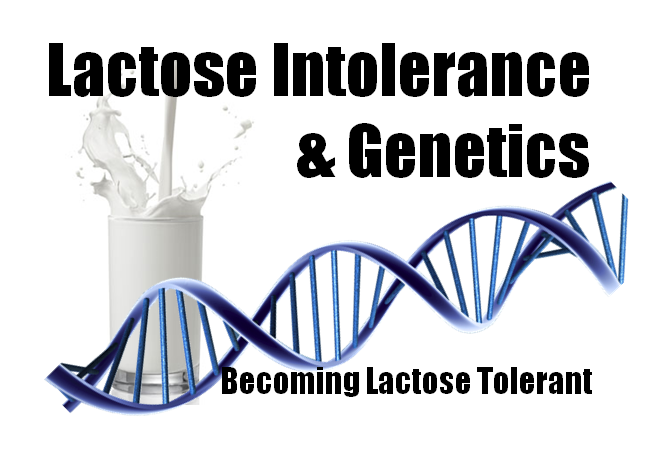 More about Lactose Intolerance
The common view: I'm lactose intolerant because I don't have the right genes to break down lactose. The Truth: you can become lactose tolerant if you slowly reincorporate dairy back into your diet. Lactose intolerance isn't only genetic, but a result of infrequent dairy consumption. 
I've noticed that some people wear their lactose intolerance as a badge of honor.
In a proud manner, some people say "Oh, I can't drink milk because I'm lactose intolerant." Continuing with "most of people in the world don't have the gene that gives them the ability to digest lactose after childhood." "It's really common in people of East Asian decent"
What you need to understand is that they are all basically saying "I'm a victim of my genetics." And seemingly, "all the cool kids are lactose intolerant so why shouldn't I join them."
Some people point to lactose intolerance as being a genetic problem, and use this to argue why drinking milk is unnatural. They would say that drinking milk is only "natural" for some people because they have a genetic mutation that gives them the ability to digest milk. Like Spiderman being bitten by a spider. Spiderman is one of a kind because his DNA was changed.
But, lactose intolerance isn't that simple, the cause of it is not only genetic, but cultural.
Drinking milk isn't exclusive to certain people groups
Milk drinkers are not like Spiderman; the only ones with the genetic mutation.
But some seem to think so, and they reason that this is why the whole world doesn't consume dairy products. Some races, they say, are more predisposed to dairy because they have the gene that makes lactase thereby enabling them to digest lactose.
But to prove that lactose intolerance is not only genetic, you can see that drinking milk is not completely exclusive to one people group, or area in the world. There are people groups on every continent that drink milk, and hold milk as being a vital part of their nutritional diet. To name a few, you have Europeans in Europe, Massai in Africa, the Indians in Asia, and so on. The "lactase gene" is not exclusive to any one group of people.
Cattle and dairy products can be found all over the world. Cattle were a very important source of food for many ancient civilizations. Research has proven that animal husbandry predated agriculture. Even though some cultures today do not consume dairy products in high amounts, their ancestors may have. Culture changes and emphasis on certain foods change too. Like how milk was once a staple in American households, and a part of every meal but today is being sidelined to other beverages. It only takes a few generations to forget the things our grandparents once held dear.
An example of this was the discovery of the oldest cheese ever discovered in China. China is not considered a hotspot for dairy consumption; however researchers have discovered cheese there. Another article notes that East Asians developed dairy farming technology before 5,000 B.C., and may have passed it along to Africa. These researchers point out that the practice may have spread west from Asia to Africa and then on to Europe. The Chinese may have been eating dairy products far longer than Europeans.
The ability to digest lactose is not centered in one people group or geographical area. It seemingly pops up in a lot of different areas of the world.
Use it or Lose it
Researchers of lactose intolerance have known that a person's ability to digest lactose is dependent on your consumption of dairy products. If your body is not used to consuming dairy, you can lose the ability over time.
Dr. Barry Starr, a geneticist at Stanford University, says people can consume lactose even if their body doesn't produce lactase. Starr notes that certain bacteria in your gut have the genetic ability to consume lactose, but if you don't consume lactose often enough these bacteria will begin to lose out to the bacteria that cannot consume lactose. (Source)
If you stop eating dairy products completely, you will lose the bacteria populations in your gut that are helping you digest milk. You will be able to digest less lactose than before if you stop eating it. Your decision that you are lactose intolerant will become a self-fulfilling prophesy – you will eventually become lactose intolerant.
You can in fact build up the ability to digest lactose by slowly drinking more and more milk, and introducing more and more lactose into your digestive system.
DNA and the Lactase Gene (the lactose digesting enzyme)
Emerging geneticists and researchers have been discovering some paradigm shattering information about genetics and how DNA actually works.
Most people traditionally have a deterministic understanding of DNA and genetic expressions. Basically, concluding that genes influence 100% of our physical body's appearance, and health. We feel we are all victims to our DNA, the products of a predetermined code.
This is not how DNA actually operates. DNA works as a storage device for information that we pass on to our offspring as a basic template of information for our body's cells to follow. While genetic predispositions are hardcoded into our DNA, our bodies do not have to embody the expressions of these genes. We can actually deviate from the blueprint that we are given at birth, and deviate from certain genetic markers.
A new field of genetic research called epigenetics has been making these interesting discoveries. Researchers have found out they understand far less about DNA that they thought. Outside information can recode DNA. Certain factors like thoughts, emotions, and environmental factors can transform DNA. Genes can also be activated as a result of environmental factors. The environment can signal to the body which genes should be activated or deactivated.
John Cairns, a British molecular biologist, produced compelling evidence that our responses to our environment determine the expression of our genes.
"Cairns took bacteria whose genes did not allow them to produce lactase; the enzyme needed to digest milk sugar, and placed them in petri dishes where the only food present was lactase. Much to his astonishment, within a few days, all of the petri dishes had been colonized by the bacteria and they were eating lactose. The bacterial DNA had changed in response to its environment. This experiment has been replicated many times and they have not found a better explanation than this obvious fact – that even primitive organisms can evolve consciously.

So, information flows in both directions, from DNA to proteins and from proteins to DNA, contradicting the "central dogma." Genes can be activated and de-activated by signals from the environment. The consciousness of the cell is inside the cell's membrane. Each and every cell in our bodies has a type of consciousness. Genes change their expression depending on what is happening outside our cells and even outside our bodies."

Genes do not determine human outcomes – it is our responses to our environment that actually determine the expression of our genes.
**The gene expressing lactase production in contrast to populations that drink a lot of milk. Could it be that lactose intolerance is only from our not needing the ability to digest lactose. People drinking milk more often have just developed the ability and adopted the gene to their DNA**
Lactose Intolerance is not Purely Genetic 
This is an example of how DNA can change due to environmental factors. Perhaps humans are the same way. Our bodies ability to digest lactose changes due to environmental factors (i.e. whether we need to digest lactose or not). Populations drinking larger amounts of milk have been able incorporated this ability to digest lactose into their DNA over time to give to their offspring, while other people groups who don't drink much milk don't have the need to transfer this through their DNA.
This also explains why the gene controlling lactase persistence is not centralized in one people group, but spread throughout the world in a variety of peoples and places.
You are not a victim to your genes. You don't have to wear lactose intolerance like a badge of honor. Your genes do not have to control whether or not you get to drink milk. Rather, you control your genes. You can overcome lactose intolerance.
You can regain the ability to drink milk and become lactose tolerant, and that's been proven. It just takes time to re-develop the bacteria, and reactivate the bodies systems to make it possible. You can learn more about this in other posts:
Read more about Lactose Intolerance and some of the common questions regarding lactose Intolerance 
Read about the health benefits of Lactose and why Lactose is a healthy sugar here