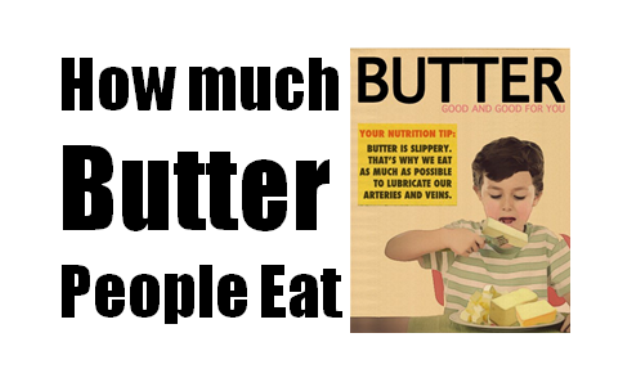 How much butter do you eat? Probably not that much, people in the past ate wayyy more butter than you do today.
Our society has been conditioned into believing that butter is not part of a healthy life. And because of these beliefs, butter consumption in America declined rapidly over the last century as people began to see butter as unhealthy.
Over the last century, It became trendy to eat low-fat diets. But since the government started recommending a "healthy diet," — two-thirds of Americans are now overweight or obese. Butter consumption collapsed, yet incidences of heart disease, diabetes, and cancer skyrocketed.
There is now overwhelming evidence that saturated fats like butter are not unhealthy as previously thought. Butter is actually a superfood and provides your body with an array of health-enhancing, bioactive compounds. In fact, researchers are learning that butter actually helps prevent heart disease, diabetes, and cancer. The food we avoided was the food essential to good nutrition.
To get the health benefits of butter, you should be eating much more butter that you are today. Butter is not bad for you, it's actually a superfood. But how much butter can you eat?
Read more about the health benefits of the milk fat globule membrane.
Butter Consumption in the U.S.
If you're worried about eating too much butter and negative health consequences from butter, you have nothing to fear. People in our past ate quite a bit of butter. Like wayyyy more than you are eating today.
In the early 1900s, Americans consumed about 17 pounds of butter per person per year; by 2004 butter consumption was only at 3.7 pounds per person per year.
That means Americans today are eating about 10 lbs. of butter less/ year than people did in the past. 10 lbs. of butter less per year!
People at more butter and dairy products in the past and had healthy lives. If you don't believe that people prior to 1909 were eating a lot of butter, there aren't extensive records about butter consumption in the 1700s and 1800s, but there are sailor's rations for sea voyages from that time period. And they show that sailors ate a lot of dairy.
It makes sense because butter is a great nutrient dense food. Butter would be a great superfood for sailors.
Butter Powered Sea Sailors
Butter consumption prior to 1900s
Provisions listed for the British ship BELLONA – 74 guns in 1760 listed as provisions for 650 men for four months: (Source)
Beef 5,200 pieces 20,800 lbs
Pork 9,620 pieces 19,240 lbs
Beer 236 butts 29,736 US gallons
Water 339 butts 30 puncheons 60 hogsheads 49,018 US gallons
Bread 650 bags 72,800 lbs
Butter 3,900 lbs
Cheese 14,160 lbs
Oatmeal 19,008 lbs
Peas 20,800 lbs
Flour 15,590 lbs
Butter Consumption = 3,900 lbs. = 6lbs/ person for 4 months = 18lbs. of butter per year.

(Noticing Cheese Consumption also) 14,160 lbs. = 21.8 lbs/ person for 4 months = 5.4 lbs/month = 64 lbs. of cheese a year per person.
Provisions reported on-board the British Sloop ALERT – 1777, a sloop of 60 men for 4 months: (Source)
Beef 462 pieces in 6 barrels weighing 2238 lbs
Pork 777 pieces in 5 barrels weighing 1753 lbs
Beer 12 barrels weighing 788 lbs
Water 56 hogsheads and 25 casks of 18 gallons each about 4091 US gallons
Bread 6048 lbs in 54 bags
Butter 420 lbs
Butter Consumption = 420 lbs. = 7 lbs/ person for 4 months = 21 lbs. of butter per year.
USS Constitution
A sample menu that sailors aboard the USS Constitution notes that sailors ate 4 oz. of butter per week in 1798: (Source)
Butter Consumption = 4 oz per week = 208 oz. per person per year = 13 lbs. of butter per year.
It appears that butter was a main component of the sailors food ration and we can see that eating 18 lbs. of butter per year was not unreasonable.
People ate a lot of butter in the past.
Butter Beliefs Holding you Back?
So what is stopping you from eating more butter? Probably those voices in your head from all the conditioning and propaganda you learned.
I can still hear my mom warning me not to put too much butter on my pancakes. Do these thoughts sound familiar:
Old Thoughts about Butter and Fat
Don't eat too much butter; you'll clog your arteries"
Easy on the butter, you don't want to get heart disease
Careful not to use too much, you'll end up like Paula Dean
Lowfat is healthier for people watching their weight
Fat-free is the healthy choice
Always choose low or reduced fat to be healthy
Even though we can consciously know that butter is healthy, it's still hard to think of butter as a good thing.
It's hard to break habits or thinking once it's been ingrained in our minds. But you can start reminding yourself when you eat butter that it's good for you:
New Thoughts about Butter
Fat is a healthy part of my diet
Eating fat is a necessary part of a healthy diet
Butter is probably the healthiest thing I can eat in the morning
If anything the social experiment of eating less natural fats, like butter, this last century has proven how paradigms can change over time. It's shown us that just because an idea becomes mainstream, the majority of people can be wrong.
Eat More Butter
Butter is one of the healthiest things you can eat. Our forefather knew this; why else would they eat so much butter. Butter is a great source of fuel for our bodies, rich in bioactive compounds, and an extremely cost-efficient source of nutrition. Research and science is still catching up and rediscovering what we already knew in the past.
Put butter on toast. Put butter on pancakes. Put butter on everything. Then watch your body, metabolism, and health change for the better. It's probably the healthiest thing you've been eating each morning.