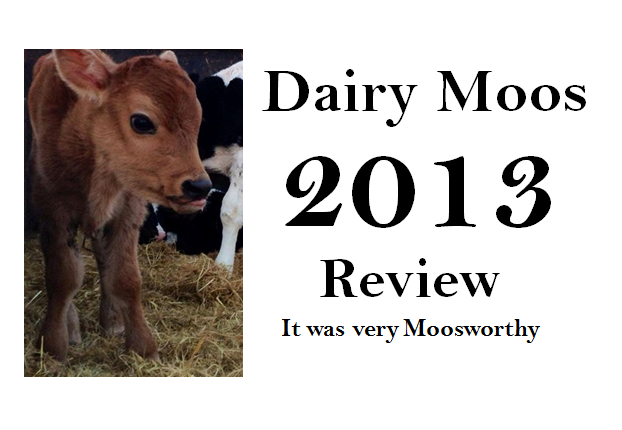 Goodbye 2013, hello New Year
A review of 2013: interesting happenings, top posts, and some random posts that will make you the most interesting person in the world
2014 is here, and for some people, 2013 felt like a crazy blur. Dairy Moos had a great year last year, filled with a lot of excitement. The amount of visitors to this site continues to grow. In fact, Dairy Moos is read by people all over the world, which is pretty neat. I never dreamed that this blog would be read all over the world, but it's neat because I've been able to connect with a global audience, and even other farmers from around the globe.
So join the Dairy Moos community. If you like seeing pictures of cows, and life on the farm, be sure to like the Dairy Moos Facebook page, or follow me on Twitter and Tumblr. Connect with me. If you have questions about dairy, be sure to let me know.
2013 Highlights
A Viral Calf on Tumblr
In 2013, one of my pictures went viral on Tumblr. We had a Jersey cow named "Coffee" give birth to a baby bull calf. Since the cow had an interesting name, I polled the Facebook fans on what to name the calf. As you can imagine, there were so many good names to choose from. Creative mentions include, Maxwell, Folgers, Mocha, Latte, Cream, and Coffee-bean. The most unanimous name was De-calf though, which my sisters found quite fitting. His picture received nearly 5,000 shares/likes on Tumblr.
**De-calf is now the most popular calf on the dairy.. Sorry Wubbzy, you've been replaced.. Poor Wubbzy**
A viral post – How Chipotle and Panera Bread are using Fear to sell their Products
By far my most popular post of 2013 was my commentary about how high end fast food companies like Chipotle, and Panera Bread are using misinformation to add value to their food chains, and sell you their food. Instead of portraying reality, these companies propagate a false representation of what the reality of agriculture is. It's a shame that these corporations are using these kinds of tactics to spread fear. So don't believe the propaganda, it's just a creative marketing tactic. If you care about where your food comes from, take some time to connect with farmers. They will openly show you how they care for animals, and take care of the land.
**My commentary about Chipotle, and Panera Bread went viral; thanks to everyone who shared this post**
Top 5 posts of 2013
In 2013, there were some of my recent posts that have surged in popularity. The following are the top recent posts of 2013.
Random Facts to make you interesting
Every once and awhile, you discover something interesting that you might not have heard anywhere else. I try to make these posts interesting. Random facts are always good to know. They make you sound like a well-educated expert; something that definitely comes in handy at any kind of get together with friends or colleagues.
Only read these posts if you want to be interesting though, it's your choice.
Thanks for reading
Thanks for reading my blog, and I hope 2014 is a prosperous year for you!
Check out the Dairy Moos 2012 year-end review here