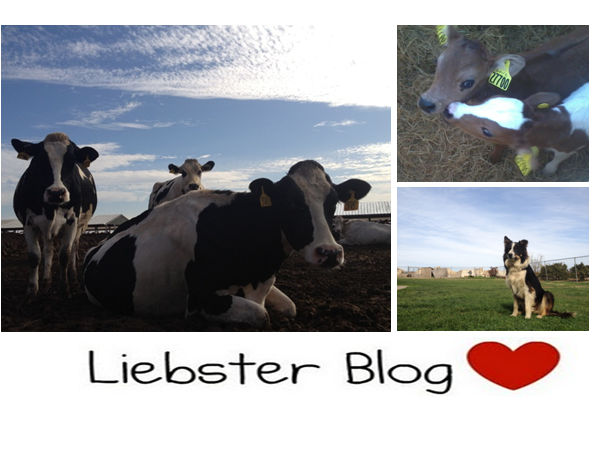 Liebster Award, and some great farm blogs!
A few weeks ago, I was surprised to learn that I had been awarded a Liebster award by one of my blogging friends, Lorna, who writes the Irish Farmerette blog!
Lorna is the wife of a dairyman in Ireland, and she writes about their life on their farm there. I really enjoy Lorna's blog! Being in the U.S, we often become stuck in a single way of thinking so it's really great to get a completely unique perspective on things.
Lorna posts a lot of great pictures. One of her latest postings has a bunch of pictures from her cycling trip around Ireland countryside. It's really quite picturesque. She also writes about how they are using wind power on their farm, and even tackles the subject of death on the farm. Check out Lorna's blog, it's really quite interesting!
The Liebster Award Rules
So you might be wondering, what exactly is a liebster award. Well, it's really just a great way to recognize some fellow bloggers that you enjoy reading, and share these blogs with your readers.
The rules are – You thank the person who gave you the award, and post a link back to their blog. Then you choose 5 blogs that you want to recognize for the liebster award. Link to them, and let them know that you gave them the award.
Dairy Moos – 2012 Liebster Awards
So here's Dairy Moos's 5 choices for the 2012 Liebster Awards:
The Farm Vet – This blog is written by a farm vet in California, who immigrated here from the U.K, and his wife, who grew up on a dairy farm in California. They share their experiences being involved in agriculture. The farm vet shares about some of the things a farm vet must deal with. Recently though, they have done some writing to put a face on California agriculture. It's important that people know where there food comes from. I think they are doing a great job of giving people a real view of farming, and the importance of agriculture.
Dairy Innovation – This blog is written by one of my good friends, a dairyman in Michigan, who writes about her life on the dairy. She does a great job explaining to people how their cows are taken care of, and anything else she finds interesting. She is also a great photographer, and really does a good job capturing nature scenes. You can see some of her photos here.
FarmnWife – This blog is written to help people in agriculture learn how to blog better. Judi shares a lot of great tips for blogging. Even if you are a veteran blogger, I'm sure you could easily find some tips to help improve your blog. I know I have! One feature I really like about Judi's blog is the featured farmer section. Judi interviews a lot of different farm blogs (including me!), and digs in to their different stories. If you are always trying to find new farm blogs to follow, this is definitely the farm blog jackpot!
Dairy Goddess – This blog is written by Barbara Martin, a 3rd generation dairy farmer in California. Barbara, writes about her life on the dairy, and does a lot to educate her readers about life on the farm. Recently she has started making her own cheese. I have had the pleasure of trying her cheese, and must say it is superb! Definitely check out her blog.
IdahoFarmWife – This blog is written by Gayle, a 4th generation farmer in Northern Idaho. They grow a variety of crops including wheat, garbanzo beans, lentils, and mustard. I really enjoy some of her posts. She posts a lot of great pictures and video. Be sure to check it out, and learn about farming in Northern Idaho.