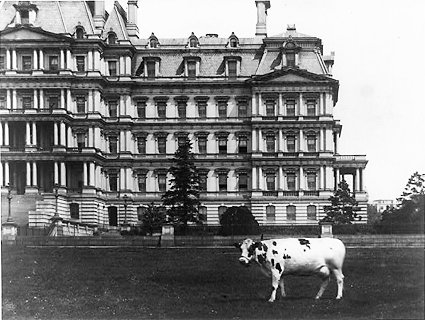 The Last Presidential Dairy Cow
Recently I came across a story that I just had to share. I never thought much about it, but most presidents have had pets, and some had more interesting pets than others.
Pauline Wayne
Perhaps one of the most famous presidential pets in U.S. history was a dairy cow. Until the 1850's, most families in the United States owned their own cow, and that included the presidential family. A Holstein dairy cow names Pauline Wayne was an official presidential pet to William Howard Taft, the 27th president of the United States.
From 1910 to 1913, Miss Wayne grazed freely on the White House lawn, and provided milk for the First Family. Unfortunately she was the last presidential cow to ever live at the White House, and graze on the White House lawn.
Part of the Family
Pauline was not the first presidential cow though. She replaced a lesser-known cow named "Mooley Wooly" who produced milk for the First Family for a year and a half. According to the story, Taft and his wife Helen had growing children and Mooly Wooly couldn't produce enough milk for the family. So a Wisconsin Senator bought Pauline Wayne for Mrs. Taft.
Pauline was considered a family pet to the Taft's as much as she was livestock. Unfortunately the origins of her name are unknown, but I suspect there must have been an interesting story behind the name.
More Unusual Presidential Pets
Most presidents had more traditional pets like dogs, cats, and horses, but some had some had more exotic and unusual pets. The following are some of the more interesting presidential pets:
· George Washington – a Parrot
· Thomas Jefferson – 2 bear cubs
· John Quincy Adams – Alligator, Silkworms
· Andrew Jackson – fighting roosters
· Martin Van Buren – 2 tiger cubs
· Abraham Lincoln – Turkey named Jack, Goats named nanny and nanko
· Benjamin Harrison – Opossums named Mr. Reciprocity and Mr. Protection
· Theodore Roosevelt – Badger named Josiah
· Calvin Coolidge – Raccoons named Rebecca and Horace, Bobcat named smoky, a black bear, a wallaby, lion cubs named Tax Reduction and Budget Bureau, a pygmy hippo named Billy, and a Duiker (small antelope)
· Herbert Hoover – 2 crocodiles
Let me know
Did I forget any? Let me know in the comments below!